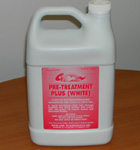 Pre Treatment
This products should be used as the first step in a professional detailing application. As a pre-cleaner, this product is easy to apply. It will remove light oxidation, rain spots, and road dirt. Also helps restore color.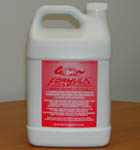 Formula AT-5
GEM's exclusive Acrylic/P.T.F.E sealant is legendary in the industry for long lasting protection and high gloss shine. As an acrylic, Formula AT-5 bonds with the clearcoat surface, virtually forming another protective layer. Lab tested to remain on the vehicle for up to five years.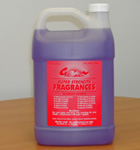 Fragrances
Choose from eleven popular fragrances:
Baby Powder, Leather, Musk, Pina Colada, Strawberry, Cherry, Mint, Lemon, New Car, Pine, Spice
Gem ships fragrances in concentrate form. Only four ounces of concentrate makes a full gallon of "finished" product. A case (4 gallon jugs) of concentrate fragrance only weighs 4 lbs. If they were filled with water (finished product) the case would weigh 35 lbs. Our concentrate program results in tremendous savings for you on freight. When you receive the product, just fill with water to the "fill to" line...your water is as good as ours!